It's the Law!
GET SAFE. GET CERTIFIED.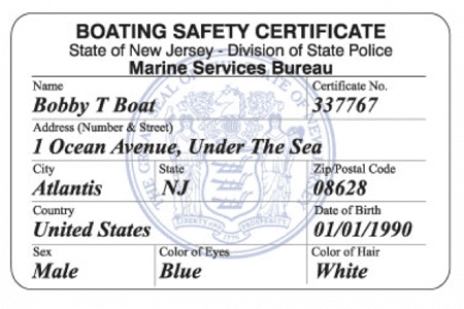 Who Needs the Card?
Anyone operating a motorized vessel is required to have a New Jersey Boat Safety Certificate.
Age Restrictions:
All operators must meet these age and education requirements in order to operate a motorized vessel.
A person less than 13 years of age may not operate a motorized vessel.
A person under the age of 16 may not operate a PWC.
A person 13 through 15 years of age may operate a vessel powered by an electric motor or vessels 12 feet or longer and powered by a motor less than 10 horsepower only if he or she has successfully passed a boating safety education course approved by the New Jersey State Police.
A person 16 years old or older may operate a motorized vessel if they have successfully completed an approved boating safety course.
A 12-year-old child may take the boating safety class with their family. They will not need to retake the class and will receive their Boating Safety Certificate when they turn 13 years old.
Good in U.S. States:
All states that have mandatory boater education requirements will accept a New Jersey Boat Safety Certificate. Likewise, New Jersey will accept boating education cards that are issued by states that meet NASBLA requirements and a mandatory proctored exam. (This is known as "reciprocity.")
Enforcement:
New Jersey law enforcement officers patrol the waterways to make your boating experience safe and pleasant. Cooperate with them by following the laws and guidelines.
Carry the Card:
Vessel operators who are required to have a Boater Safety Certificate and must carry the card on board the vessel and have it available for inspection by an enforcement officer.
Penalty:
Not carrying your Boater Safety Certificate when one is required results in a fine.
Is the Boater Safety Certificate the same as a Boating License?
The New Jersey Boat Safety Certificate is proof that you have successfully completed an approved boating safety course. Since the Boat Safety Certificate does not expire and does not need to be renewed, it is not called a New Jersey Boating License. An endorsement on your driver's license is only for non-tidal water and will not be issued by the NJ Motor Vehicle without your Boating Safety Certificate. You still need to carry your New Jersey Boating Safety Certificate.